Pin It Now!
Well off we go to play in Atlanta for a national conference and it's pretty cool to be able to hang out with the band off stage. I am enjoying my Jalapeño Salsa sunflower seeds here in the backseat of Angie's car and I have been threatened by her! Yes. Threatened!
I will be left on the side of the road if she finds any seeds in her car. So like a good little passenger, I grabbed my coffee cup, compliments of the gas station cashier, along with a lid, and have very cautiously contained all stray seeds and shells!! Go Me!!
The girls decide to pile into Angie's car while the boys, or men should I say, cruise the highway chauffeured by Derik! Of course you would assume that the women would be crying for the first potty break, but no! Let it be knownm the men have made the first plea to pee!! Haha!
So yeah, I am thrilled to have this new "blogging fettish" because it really can help to ease a really bad case of car anxiety! I can admit that I suffer from this which explains my need for the sunflower seeds!!
So until my next vehicle anxiety attack... Peace out!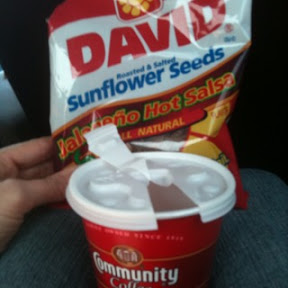 Nelly